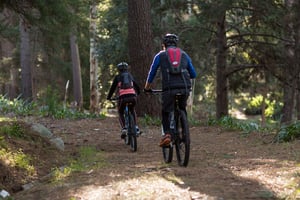 Since spring, OREI has been working in partnership with the Outdoor Recreation Roundtable (ORR) to track the impact of the COVID-19 pandemic on the sprawling outdoor industry. After early data revealed widespread economic devastation, our most recent findings offer signs of recovery.
Media coverage shows how our research is shaping the conversation.
Caption of bike riders in woods goes here
"Business is starting to turn around for parts of the outdoor recreation industry, which has suffered during the pandemic not only from the shutdown of stores and manufacturing plants but also the closure of national and state parks, trails, marinas and other places where people recreate.
...
"But many businesses are still struggling and could end up closing their doors permanently... The industry is advocating for support in any additional coronavirus relief aid from Congress."
Other coverage: