As Oregon State University's Center for the Outdoor Recreation Economy (CORE) continues to grow, our team looks to industry partners and specialized consultants for valuable guidance and insights. One of our key collaborators is Kristen Freaney, who plays an important advisory role for CORE through her consulting business, Path to Peak. Kristen recently announced a new venture, Career School, aimed at helping professionals struggling to find the right career path. The tagline for Career School says it all: Work doesn't have to suck.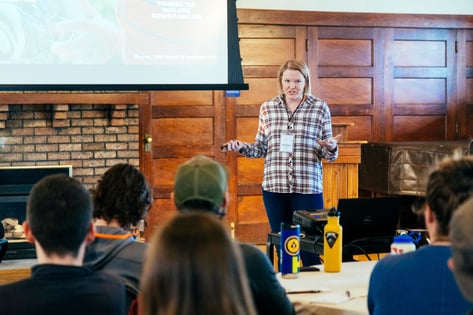 Career School Founder Kristen Freaney leads a working session.
"Career School brings together several key things," she explains. "It starts with self-knowledge tools, being able to assess your work/life values, understand your unique strengths, honestly define what success looks like to you, and see clearly what kind of work excites you versus what doesn't. Second, we focus on developing the ability to understand burnout. There are so many people feeling burned out right now, and there are both organization-level and individual-level changes that need to be made to address this. On the individual level, being able to understand what burnout actually is, how it manifests over time, and the importance of healthy professional boundaries is critical to helping folks manage and prevent it. And the final piece is really helping people take all this information and build a plan to make change happen."
Kristen's desire to help other people find their best professional fit was inspired by her own career frustrations. From the entry-level role she was lucky to land as a new college graduate in the brutal job market of 2009 to the many titles she held with academic institutions and outdoor organizations, she experienced the same pattern over and over.
"I was always eager to take on challenging projects, but I would quickly be maxed out with my energy," she recalls. "There were times I had a great boss and I was working on great projects, but I got to the point of not even wanting to get up and go to work in the morning."
Career School's initial offering, Wayfinder, uses research-backed knowledge and tools to help others break free from that all-too-familiar burnout pattern. Starting January 10, 2022, and running eight weeks, the program includes:
Five online learning modules
Self-reflection activities guided by a digital workbook
Access to The Quad, Career School's private online community, for peer reflection and networking
Six live group calls to deep-dive into learning content and connect with other subject matter experts
The January cohort is still open for enrollment.
Later this year, Career School will launch The ReRoute, a program created to help career changers hoping to break into the highly competitive outdoor industry. Anyone interested in The ReRoute is encouraged to join the program's waitlist for updates and enrollment options.
To learn more about Kristen's story and Career School's programs and resources, visit the website.