The latest episode of the Pacific Northwest Ski Areas Association's podcast, The Mountain, features a conversation between PNSAA president, Jordan Elliott, the our lead instructional designer, Danny Powers, about how augmented reality, user-centric design, and a healthy dose of humor are driving much-needed innovation in technical training for the outdoor recreation industry.
Danny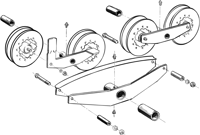 is the creative mind behind the Center's Level 1 Ski Lift Maintenance Training, online course designed for ski resort employees who are looking to progress into a more technical role in lift maintenance. In this engaging podcast, Jordan and Danny talk about how the challenge of designing the Lift Maintenance Course offered an exciting opportunity to rethink technical training. They also explore the broader landscape of technical training programs across the outdoor recreation industry.
Check out the available streaming options for The Mountain Podcast to hear the full conversation. (See below for a podcast highlights and time stamps.)
Note: If you're interested in learning more about the Level 1 Ski Lift Maintenance Training that Danny designed, you can try out the first module of the course for free.
Highlights (with time stamps) from the conversation:
The May 2019 retreat that sparked ideas for a new approach to technical training (12:20)
Using different strategies to engage learners (17:49)
Danny's winding path to an instructional design career (21:00)
How Danny's love of drawing influenced the look of the ski lift training (27:54)
"Death by PowerPoint" (33:28)
Why a new approach to ski lift technician training was necessary (36:43)
How to make sure students are absorbing the lessons (40:05)
Enhancing technical training with augmented reality (43:21)
Jordan's journey to a ski industry career (48:28)
The surprising size and reach of the outdoor recreation economy (63:15)